How do I connect my Android device to eduroam?
To connect your Android device to the eduroam network, you need to perform a so-called "onboarding" of your device. To complete the onboarding, you must be connected to a network of internet access.
Step 1: Connect to our onboard network
If you are at Dalarna University Campus and are not connected to a network with Internet access, you can use our onboard network (onboard). If you already have internet access over another network, you can continue to use it and continue with step 2.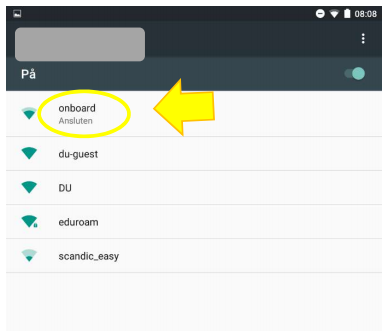 Step 2: Complete the onboarding process
Now it's time to open a browser (we recommend Chrome) and browse to https://onboard.du.se where you'll log in with your user information from Dalarna University.

After logging in, click Install QuickConnect to download and start the installation of the application used to configure your device.


In Google Play, choose to install the application.




Once installed, select to return to the Wizard by pressing "back".


After you get back, click Install Profile to download and start installing the new network profile.


Choose to download the profile of your device.


The next step is to open the file you have just downloaded.

A message about the necessary permissions will appear. Click Continue to move on.




Allow the app to use the necessary permissions.
(the permissions name is misleading, as you could read in the above message, the app will not change files or images, will not make calls or track your location.)


Now, the profile should be configured on your device.



Step 3: Connect to the eduroam network
If you are on campus, your device is automatically connected to eduroam. Otherwise, it happens automatically the next time you get there.
Need help connecting?
If you need help, you can send an email to support@du.se, call 023-778888 or visit Helpdesk.
This article helped me!