Why do I receive an error message "AADSTS90100" or "AADSTS90019" when I try to sign in?
If you have different Microsoft accounts, such as a private Hotmail/Outlook account or a Microsoft 365 account with your employer, there may sometimes be a conflict between those accounts that prevents you from signing in. The error message you receive looks similar to the following: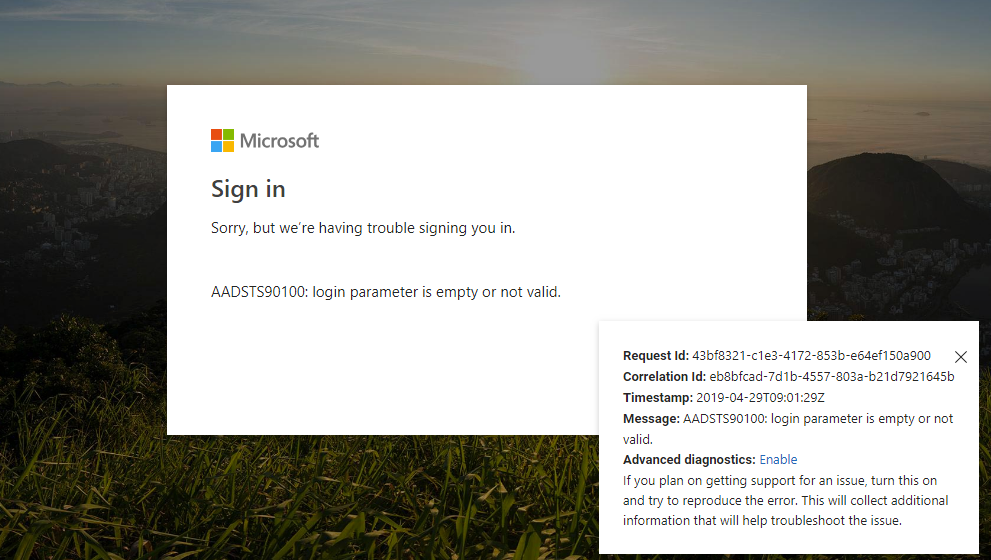 It can read: "AADSTS90100: login parameter is empty or not valid" or "AADSTS90019: No tenant-identifying information found in either the request or implied by any provided credentials."
This problem can be solved in different ways:
Method 1
The first thing you can do is go to https://office.microsoft.com and see if you can switch to your @du.se account.
Method 2
Try signing in with a different browser
Method 3
Try logging into a private window. How to do this depends a little on which browser you are using:
Method 4
Some browsers offer the ability to separate your different accounts into different profiles in your browser. How to do this depends on the browser you are using:
This article helped me!