PDF documents open in Edge, can I download them instead?
By default, when you open a PDF document in Microsoft Edge, it opens in the PDF reader built into the browser. This PDF reader works in the vast majority of situations and is also one of the safest options.
However, a specific document may require support for features (primarily older ones) that are not built into Edge. In these cases, you can instead download the file.
Save link as
In the case of a single document, we recommend that you right-click the link to the document and select Save Link as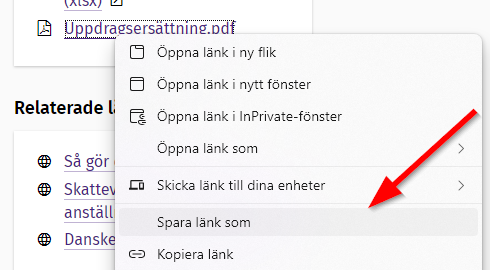 Then you choose where you want to save the document.
Change the default setting
If you often work with documents that don't work well in Edge, you can change the default setting so that all documents are automatically downloaded instead of opening them in the browser. Here's how to change:
Go to the following link: edge://settings/content/pdfDocuments
Enable "Always download PDF files"

Close the tab
The next time you click on a PDF file, it will be downloaded instead of opening in Edge.
This article helped me!